The Wipe Out Waste Awards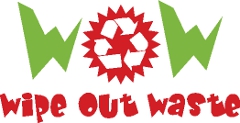 HELLO all you champions of change! After the huge success in 2010 of WOW – Wipe Out Waste, Footprint Friends launches WOW 2012.
WOW is all about getting young people to think about ways in which waste can be eliminated in their day-to-day school lives. Schools nationwide are invited to take part in our competition to come up with a new winning idea for banishing waste in their schools (saving the schools money while they're at it!) We pick the top ten WOW ideas, provide training to the finalist schools on delivering presentations, and challenge them to present their ideas to some of the leading figures on sustainability in the UK
Our WOW invitation contains all the information pertaining to our amazing WOW program. Click here to get more information
An error has occurred in processing the XML document
Have you got what it takes to WOW?
We at Footprint Friends know how challenging it is to come up with that one inspired WOW idea - so to give you all a bit more thinking time; Footprint Friends are delighted to announce WOW 2012 is now accepting your ideas NOW!
WOW 2012 will follow a similar format to 2011. Entries can be submitted Now!. We will select the best ideas to be put through to the WOW 2012 finals. The finalists will attend an event where they will learn from the leading thinkers in climate change and industry how to develop and present their ideas. The Finals will be held in the Summer of 2012 - whereby the winner will be announced.
When you think you have an idea that will suitably impress our panel of green judges, fill out the Application Form. Don't forget it could be your idea being put to some of the top environmental experts in the country!