The Wipe Out Waste Awards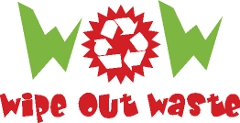 HELLO all you champions of change! After the huge success in 2010 of WOW – Wipe Out Waste, Footprint Friends launches WOW 2012.
WOW is all about getting young people to think about ways in which waste can be eliminated in their day-to-day school lives. Schools nationwide are invited to take part in our competition to come up with a new winning idea for banishing waste in their schools (saving the schools money while they're at it!) We pick the top ten WOW ideas, provide training to the finalist schools on delivering presentations, and challenge them to present their ideas to some of the leading figures on sustainability in the UK
Our WOW invitation contains all the information pertaining to our amazing WOW program. Click here to get more information
Our 'Welly' Boot Camp Was A Huge SUCESS!!
Building on the successful 2009 and 2010 Footprint Friends WOW – Wipe out Waste initiative for school children we expanded the experience to incorporate a 'welly' boot camp mid way through the programme at the Yeo Valley farm during Climate Week 2011.
In an X Factor style, the 'welly' boot camp was an extension of our existing boot camp where 20 short-listed schools came to Yeo Valley for media training and coaching from eco mentors.
Background To Working With Yeo Valley
The 2010 WOW winning idea by Ringwood school Hampshire was for yoghurt pots to be made from board or a standard recyclable plastics – the school children have already been to Yeo Valley and are active in raising the profile of plastic waste in schools generated at lunch times. The comment below is from the Ringwood school lead teacher Gill Hickman.
'I really think WOW and Yeo together have been utterly amazing as rewards for some wonderful kids. We learnt lots about yoghurt and their ethical and environmental policies. We had a farm visit and talks in their sustainable building, and MEGA tasting sessions.'
Have you got what it takes to WOW?
We at Footprint Friends know how challenging it is to come up with that one inspired WOW idea - so to give you all a bit more thinking time; Footprint Friends are delighted to announce WOW 2012 is now accepting your ideas NOW!
WOW 2012 will follow a similar format to 2011. Entries can be submitted Now!. We will select the best ideas to be put through to the WOW 2012 finals. The finalists will attend an event where they will learn from the leading thinkers in climate change and industry how to develop and present their ideas. The Finals will be held in the Summer of 2012 - whereby the winner will be announced.
When you think you have an idea that will suitably impress our panel of green judges, fill out the Application Form. Don't forget it could be your idea being put to some of the top environmental experts in the country!